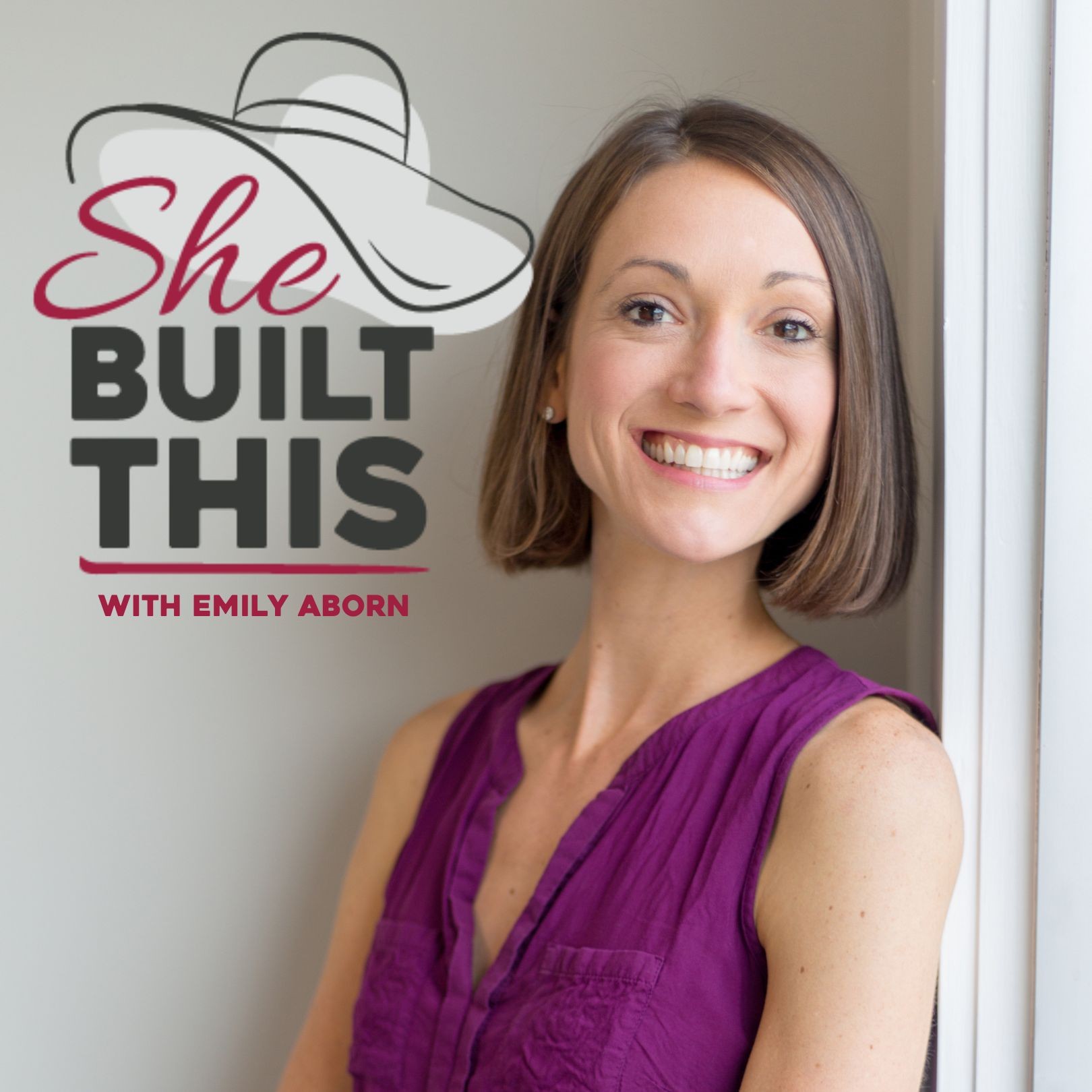 The podcast for business owners and professionals excited and inspired by success and focused on personal growth. If you're someone taking action towards your dreams, this show is for you! Join us for lots of laughs and learning with Content Writer, and owner of She Built This, Emily Aborn, as she interviews successful women entrepreneurs, professionals, and those who support them who are changing the world by following their passions! One part inspiration, one part practical tips and tangibles, and many parts FUN! Learn more about She Built This by visiting: www.shebuiltthis.org Connect with host, Emily Aborn: www.emilyaborn.com
Episodes
Wednesday May 12, 2021
Wednesday May 12, 2021
Ok, so nowadays that occurrence in and of itself isn't special. BUT this She Built This episode IS extra special as it's featuring five New England entrepreneurs who are sharing their lessons learned, how the past year has impacted their business, what their TOP piece of advice is for other women in business, and more! 
A new way to approach time management (Lanette Pottle) 
The power of perseverance and not giving up (Kristy Oullette)
How to know if it's your ego or your intuition doing the talking (Karen Kenney) 
Growing the business YOU want (Beth Blaney) 
Working with a spouse/partner and navigating Covid as a small business
Myself + my co-host of the day, Anna Hayes Harless +  our FIVE Guests = a party of SEVEN Entrepreneurs! 
Don't be scared by the length of this one!! You can take this one at your leisure and listen to it in segments, or all in one go. 
Our guests: 
Lanette Pottle: With a history marked by disadvantage, dysfunction, and depression, Lanette Pottle uses the hard-won wisdom of her past as fuel, making her a fierce advocate of well-being. She walked away from a successful 2O- year career in human resources with the determination to support women in growing their businesses and careers without burning out. Today, Lanette does just that in her work as a life and business coach. Lanette is a TEDx speaker, co-author of the #1 International Best-Seller, Success University for Women in Leadership, and author of Small Steps Big Impact: A Year of Simple Actions to Transform Your Life.  Learn more at www.lanettepottle.com and connect with her online on Instagram @lanettepottle
Kristy Ouellette is the owner of Mickey Guru Travel Company, which she founded in March of 2014. Mickey Guru is a full-service travel agency helps people create lifelong memories with their loved ones via travel experiences. We provide personal, concierge-level vacation planning services to help our clients to get the most value out of their vacation time. Whether you are looking for a vacation with roller coasters and princesses, a quiet beach with unlimited adult beverages, a cruise out on the open sea, a privately guided tour of a European city, or something in between, I'm ready to help make it as magical as possible. Connect with Kristy on Instagram
Karen Kenney is a certified Spiritual Mentor, author, speaker, and the host of The Karen Kenney Show Podcast. She's also the founder of THE NEST - an online spiritual membership & community. She's been a student & guide of A Course in Miracles for close to three decades, a yoga teacher for 20+years and is a longtime practitioner of Passage Meditation. She's known for her storytelling, her sense of humor, her love of the Divine and her "down-to-earth" practical approach to Spirituality. She's also a Gateless Writing Instructor and is currently working on a memoir. Connect with KK at: https://www.karenkenney.com/
Heather Crowe worked at Amica Insurance Company for ten years and then made the decision to stay home and raise her two sons Brady and AJ who are now 15 and 17 years old as well as her rescue dog Flynn. Heather and her husband Brian started SpeedPro Solutions located in Amherst, NH in 2017. It has been
an adventure learning something new every day in the signage/print industry. Heather enjoys helping businesses grow using Great.Big.Graphics through interior/exterior signage,
vehicle graphics and much more. She is focused on supporting the local community as well as non-profit organizations including the Cystic Fibrosis Foundation who she helped in raising over $1.2 million dollars through the annual event Taste for a Cure.
www.SpeedProSolutionsNH.com
Facebook 
Beth Blaney
is the owner of Beth Blaney & Associates. She and her team take on your business tasks so you can take on your
business. As an entrepreneur herself, Beth understands the myriad of financial and administrative matters that can hold business owners back. An administrative guru whose ideas and
solutions are fueled by decades of experience in bookkeeping, human resources, small business administration, Beth's mission is to serve as the backbone of your business so you can flourish and shine, and connect with your clients. When she's not geeking out over QuickBooks, Beth is a human mom, dog-mom, and music lover living her best life in the quiet woods of Southern New Hampshire.
Facebook, Instagram, Website