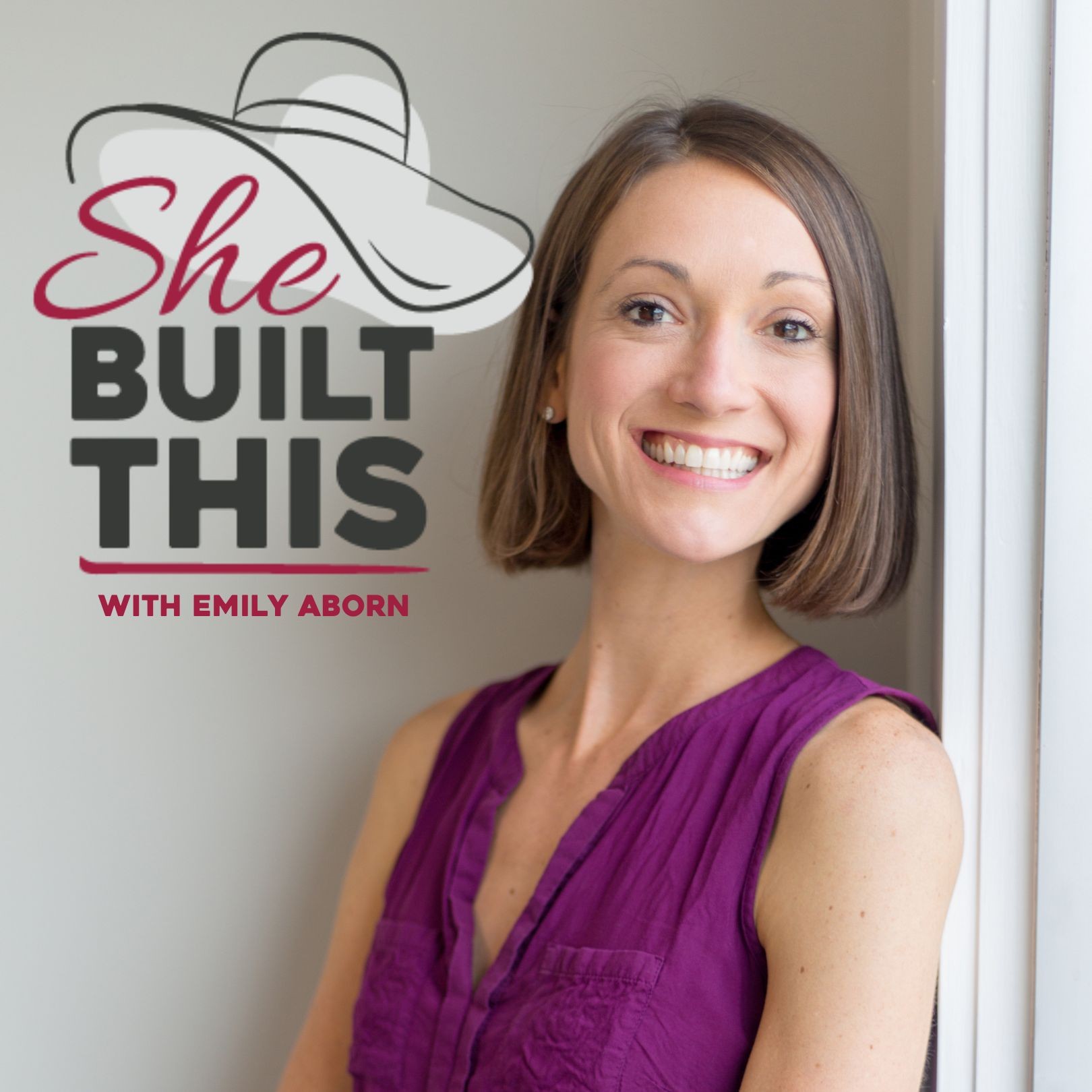 The podcast for business owners and professionals excited and inspired by success and focused on personal growth. If you're someone taking action towards your dreams, this show is for you! Join us for lots of laughs and learning with Content Writer, and owner of She Built This, Emily Aborn, as she interviews successful women entrepreneurs, professionals, and those who support them who are changing the world by following their passions! One part inspiration, one part practical tips and tangibles, and many parts FUN! Learn more about She Built This by visiting: www.shebuiltthis.org Connect with host, Emily Aborn: www.emilyaborn.com
Episodes
Wednesday Jun 14, 2023
Wednesday Jun 14, 2023
Today's podcast guest changed my life. 
In addition to being my friend and changing my life that way, Alesia also changed it by showing me how to use metrics to inform strategy when it came to my podcast.
I hired Alesia Galati of Galati Media to do a podcast audit of the She Built This podcast back in early March 2023. We sat down and went through all the numbers, and Alesia dug in and asked me about my goals for the show. 
It was in learning more about podcast performance metrics and having Alesia make sense of them for me that I was able to use the metrics to inform my strategy moving forward. 
In this episode, Alesia and I get into the importance of tying things that you measure in your business (metrics you track) to your goals, and how doing so can help you make clear decisions and inform your strategy. 
In this episode on how to use metrics to inform strategy, Alesia Galati and I cover: 
Why metrics are important in your business

The metrics that Alesia tracks in her business and why

The metrics/numbers Alesia doesn't waste her time tracking

Specifically for podcasters, how to evaluate the goals you. have for your show and use your numbers to inform your strategy

When we might need outside help in knowing our numbers

And more! 
About Alesia Galati of Galati Media: 
Alesia Galati is the owner of Galati Media and has been listening to podcasts since 2015. As you can imagine, with all that time put in, she knows what goes into creating a standout podcast that captures your audience's attention even before they press "play". 
Alesia's helped coaches and thought leaders launch and maintain over 50 podcasts and has developed a signature, thorough system for launching and managing podcasts so you don't have to stress about anything falling through the cracks! 
Alesia lives in sunny North Carolina with her two kiddos and husband. When not helping her clients, Alesia can be found reading over 200 books a year, hiking, and exploring the zoo with her boys. 
Favorite podcast: Alesia's ears have been fine-tuned for high-quality audio and she can only tolerate impeccable podcasts. 
She enjoys listening to heavily produced storytelling podcasts like "Greeking Out" by National Geographics Kids when she takes long road trips with her kids.
Podcast: Listeners to Leads with Alesia Galati 
About the Host, Emily Aborn Content Copywriter and founder of She Built This: 
Emily Aborn is a Content Copywriter, Podcast Host of She Built This and Content with Character, and Founder of She Built This, a community for women entrepreneurs and professionals. She's been an entrepreneur since 2014 and has experience in running brick-and-mortar as well as online businesses. She's worked with 90+ industries and loves helping those with a big mission increase their visibility, connect with their clients, and bring their dreams and visions to life.  
For fun, Emily enjoys nerdy word games and puzzles, reading, listening to podcasts like they're going outta' style, and tromping about in the woods with her husband, Jason, and their dog, Clyde. 
Connect with Emily: 
Content with Character Podcast