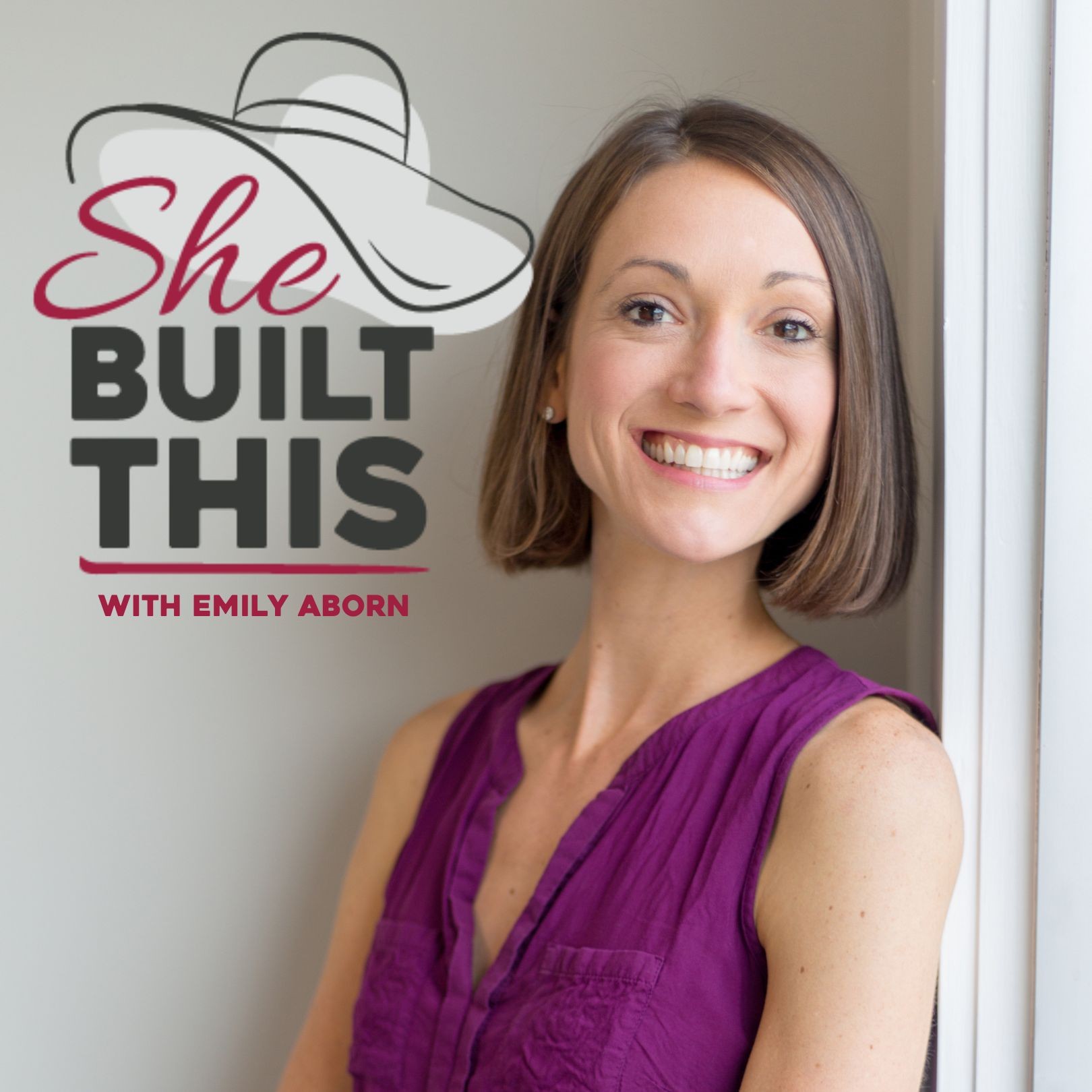 The podcast for business owners and professionals excited and inspired by success and focused on personal growth. If you're someone taking action towards your dreams, this show is for you! Join us for lots of laughs and learning with Content Writer, and owner of She Built This, Emily Aborn, as she interviews successful women entrepreneurs, professionals, and those who support them who are changing the world by following their passions! One part inspiration, one part practical tips and tangibles, and many parts FUN! Learn more about She Built This by visiting: www.shebuiltthis.org Connect with host, Emily Aborn: www.emilyaborn.com
Episodes
Wednesday Jul 12, 2023
Wednesday Jul 12, 2023
Did you know there's more than one way to rest? 
Ok, maybe you knew because you're already impressively smart if you're a listener of this podcast... but did you know there are actually SEVEN different types of rest? 
Rest is a crucial factor for happiness, joy, productivity, relationships, and our overall well-being (not to mention how we operate our businesses!). In this week's She Built This episode, we're diving into the seven types of rest and how to REALLY fill your cup for a better life. 
Dr. Saundra-Dalton Smith and I discuss the seven types of rest and dive into: 
Why so many of us as entrepreneurs, business owners, and professionals are so darn tired
The difference between burnout and just being tired
The definition of "more energy" 
The different between sleep and rest 
The seven different types of rest: physical, mental, spiritual, emotional, creative, social, and sensory and how to look at where our deficits are
Some simple energy-restoring activities we can do on the day-to-day
And Dr. Saundra's top advice for getting a better night's sleep
About Dr. Saundra Dalton-Smith
Dr. Saundra Dalton-Smith is a Board-Certified internal medicine physician, speaker, and award-winning author. She is an international well-being thought-leader featured in numerous media outlets including Prevention, MSNBC, Women's Day, FOX, Fast Company, Psychology Today, INC, CNN Health, and TED.com. She is the author of numerous books including her bestseller Sacred Rest: Recover Your Life, Renew Your Energy, Restore Your Sanity, including insight on the seven types of rest needed to optimize your productivity, increase your overall happiness, overcome burnout, and live your best life. Over 250,000 people have discovered their personal rest deficits using her free assessment at RestQuiz.com. 
Website: DrDaltonSmith.com
Instagram: @DrDaltonSmith
Resources Mentioned
The Ruthless Elimination of Hurry
Karen Kenney's Storytime Hypnosis LIVE 
Karen Kenney's Storytime Hypnosis Audio Shop
About the Host, Content Copywriter Emily Aborn
Emily Aborn is a Content Writer, Podcast Host of Content with Character and She Built This, and Founder of the She Built This community for women entrepreneurs and professionals.
She's been an entrepreneur since 2014 and has experience in running brick-and-mortar as well as online businesses.
She's worked with over 96 different industries and loves helping those with a big mission increase their visibility, connect with their clients, and bring their dreams and visions to life.
For fun, Emily enjoys nerdy word games and puzzles, reading, listening to podcasts like they're going outta' style, and tromping about in the woods with her husband, Jason, and their dog, Clyde.
Connect with Emily
Content with Character Podcast