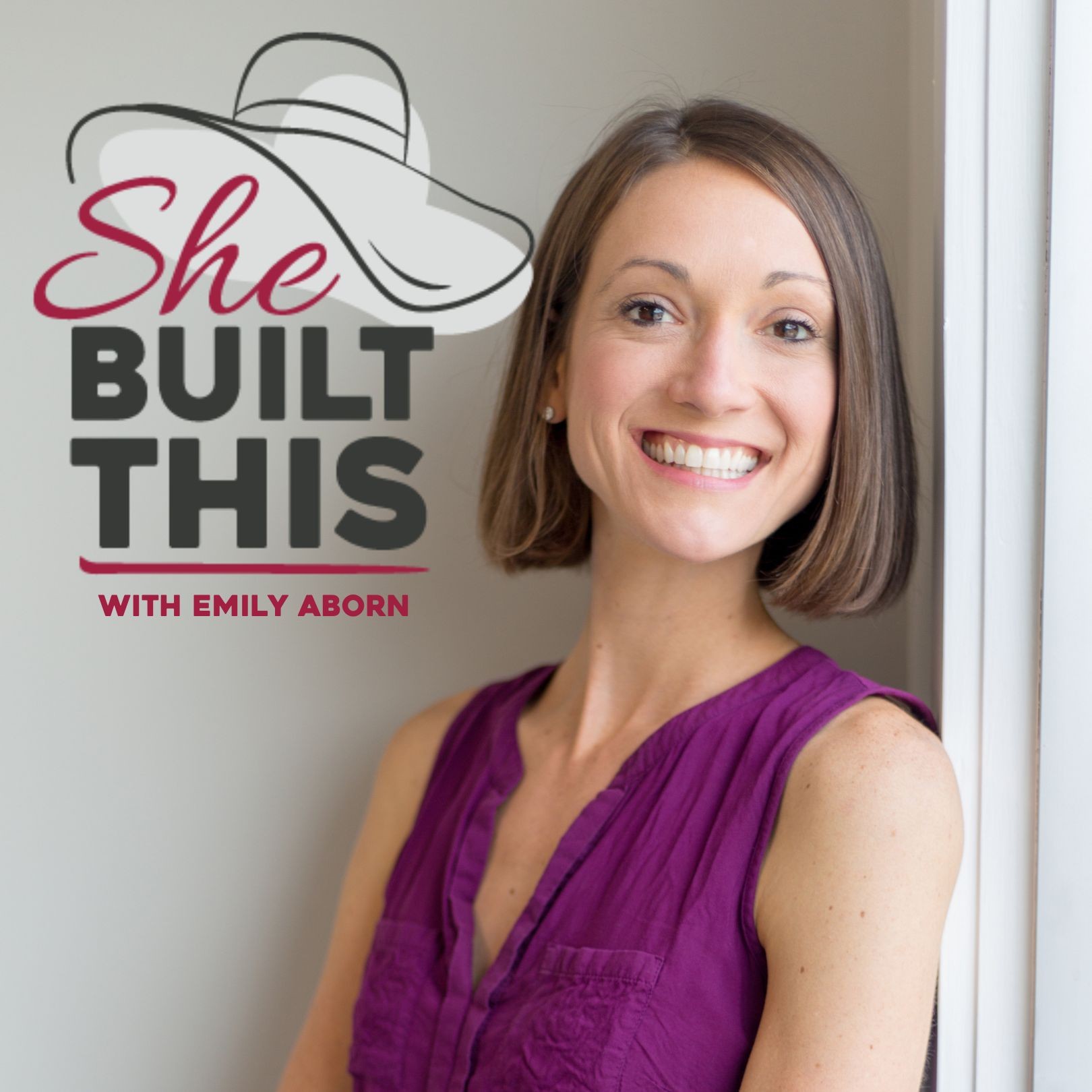 The podcast for business owners and professionals excited and inspired by success and focused on personal growth. If you're someone taking action towards your dreams, this show is for you! Join us for lots of laughs and learning with Content Writer, and owner of She Built This, Emily Aborn, as she interviews successful women entrepreneurs, professionals, and those who support them who are changing the world by following their passions! One part inspiration, one part practical tips and tangibles, and many parts FUN! Learn more about She Built This by visiting: www.shebuiltthis.org Connect with host, Emily Aborn: www.emilyaborn.com
Episodes
Wednesday Mar 08, 2023
Wednesday Mar 08, 2023
Affect vs Effect: Using Curiosity to Improve Your Writing with Mignon Fogarty
Calling all word nerds, grammar-lovers, and content creators who want to improve your writing! This episode with The Grammar Girl, Mignon Fogarty -queen of quick and dirty grammar tips that'll elevate your writing and feed your curiosity about the English language. 
In this episode, Mignon shares her own story of entrepreneurship and how she started The Grammar Girl podcast, some grammar tips in response to what I often struggle to remember when writing (and maybe you have too), as well how to improve your writing through curiosity. 
We also discuss content creation and the practice of reviewing goals and direction regularly to ensure you're on the right track, and so much more! 
Highlights of this episode: 
How Mignon got asked to fact-check Oprah Winfrey's grammar on The Oprah Winfrey Show 

How Mignon started The Grammar Girl podcast and how she comes up with all of her tips to improve writing and grammar 

How to remember the difference between affect vs effect once and for all! 

How to use curiosity to improve your writing and grammar 

How Mignon stays informed on the many changes in the ever-evolving English language 

Whether or not breaking the rules of grammar is a yay or nay and when not to do it 

Why I really should probably stop capitalizing the seasons 

And so so so much more! 
Want a quick and dirty grammar tip prior to listening to the episode? 
If you're a fellow word nerd always looking to improve your writing, this one's for YOU.
When you stumble across a grammar rule or Grammarly suggestion you aren't sure of, ie. affect vs. effect, whom vs. who, and how long is TOO long for a sentence... stop and get CURIOUS about WHY. Why is it a rule? When does it apply? 
Look it up and find out the reason behind the suggested change.
WHY do we say whom vs. who? 🤷🏻‍♀️

WHEN is it affect vs. effect? 🤯

Should there be a comma there and WHY or why not? 😬
This two-minute research project helps to cement the principle and makes it more easily remembered the next time it comes up. With curiosity, you can improve your writing faster and more effectively! 
About Mignon Fogarty:
Mignon Fogarty is better known as Grammar Girl — five-time winner of Best Education Podcast in the Podcast Awards, an inductee in the Podcasting Hall of Fame, the founder of the Quick and Dirty Tips podcast network, and the former chair of media entrepreneurship in the Reynolds School of Journalism at the University of Nevada. She is the author of seven books about language, including the New York Times bestseller, "Grammar Girl's Quick and Dirty Tips for Better Writing." She has also appeared as a guest expert on the "Oprah Winfrey Show" and the "Today Show." 
Connect with Mignon Fogarty: 
Grammar Girl Podcast - check out the latest episode of the Grammar Girl for tips on How to Actually Improve Your Grammar and Why Parallelism is Important 
Website: https://www.quickanddirtytips.com/grammar-girl/
https://www.linkedin.com/in/grammargirl/
https://www.facebook.com/GrammarGirl
https://www.instagram.com/thegrammargirl/
Quick and Dirty Tips Newsletter
LinkedIn Learning Grammar Girl
About the Podcast Host, Emily Aborn, Content Writer, Leader and Founder of She Built This: 
Emily Aborn is a Content Writer, Podcast Host, and Founder of She Built This, a community for women entrepreneurs and professionals. She's been an entrepreneur since 2014 and has experience in running brick-and-mortar as well as online businesses. She's worked with over 90 different industries and loves helping those with a big mission increase their visibility, connect with their clients, and bring their dreams and visions to life. 
For fun, Emily enjoys nerdy word games and puzzles, reading, listening to podcasts like they're going outta' style, and tromping about in the woods with her husband, Jason, and their dog, Clyde. 
Connect with Emily: 
Website: www.emilyaborn.com
Instagram: www.instagram.com/emilyaborn
LinkedIn: www.linkedin.com/in/emilyaborn
Join the FREE Community on Facebook: www.facebook.com/groups/shebuiltthis
Find She Built This on Instagram: www.instagram.com/shebuiltthisgroup