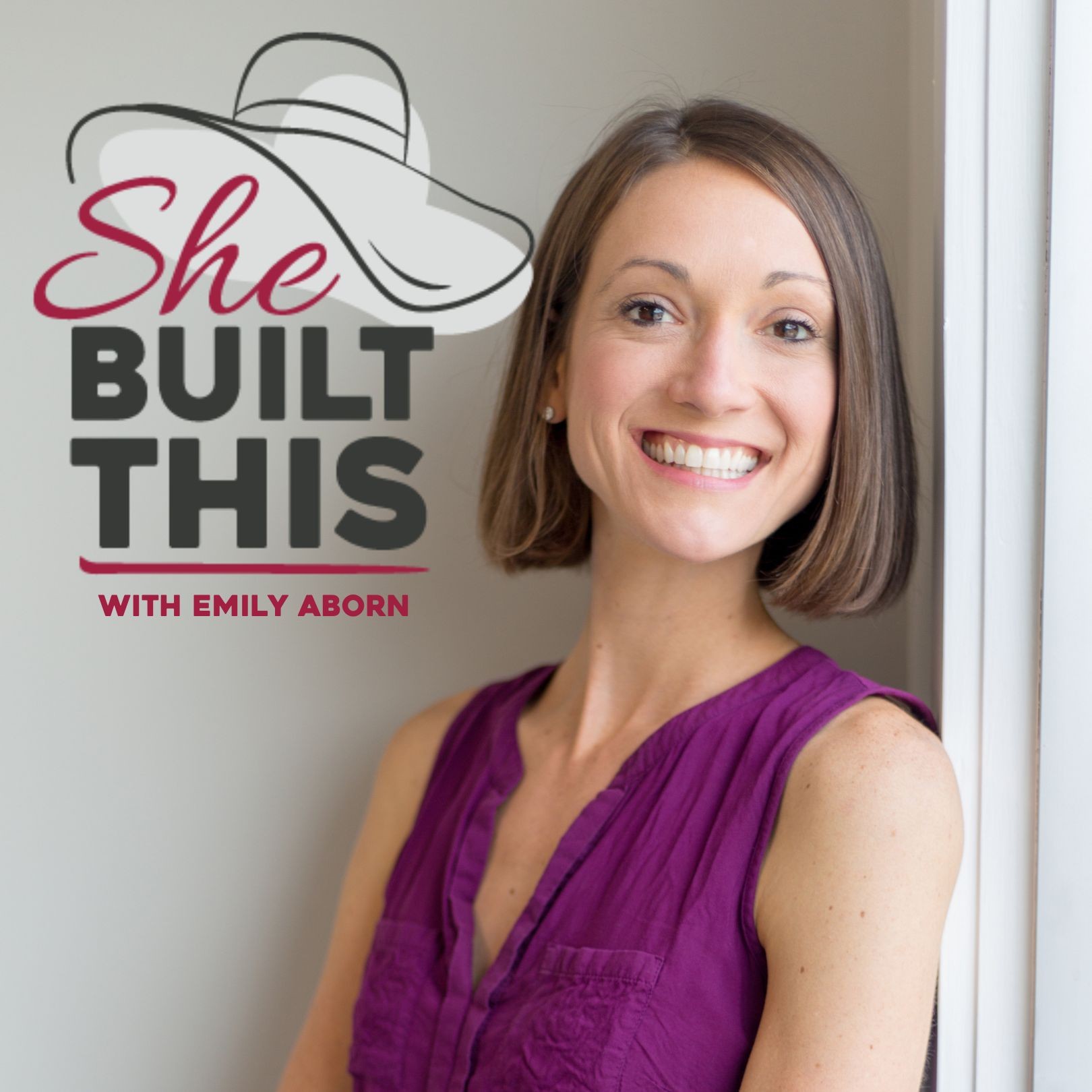 The podcast for business owners and professionals excited and inspired by success and focused on personal growth. If you're someone taking action towards your dreams, this show is for you! Join us for lots of laughs and learning with Content Writer, and owner of She Built This, Emily Aborn, as she interviews successful women entrepreneurs, professionals, and those who support them who are changing the world by following their passions! One part inspiration, one part practical tips and tangibles, and many parts FUN! Learn more about She Built This by visiting: www.shebuiltthis.org Connect with host, Emily Aborn: www.emilyaborn.com
Episodes
Wednesday Jan 04, 2023
Wednesday Jan 04, 2023
I think often about my upcoming transition to the next decade. At the time of recording this, I'm three and some change years away and I've already put a lot of thought into what I want the big celebration to 4-0 to look like! I also have a little list of things (shocker, I know) started that I'd like to accomplish before I hit the milestone. 
But until recently, I hadn't considered any sort of countdown ritual or project. My guest today, Stephanie McLaughlin, host of the Forty Drinks podcast and owner of Savoir Faire Marketing got me thinking up some ideas! 
As you listen, think about how you could creatively adapt this to a project that would memorialize something meaningful for you. Maybe it's a milestone, a transition point, or an entire YEAR of something. 
In this episode, you'll hear: 
What Stephanie's countdown to forty project consisted of and how it changed her life unexpectedly

What's so special about the age of forty and that decade in particular 

How to adapt the concept for ourselves and try a similar experiment

Insights and wisdom for those of us coming behind 

And more! 
Connect with Stephanie: 
Websites:
Social Media Links:
Facebook

Instagram

Savoir Faire Marketing Facebook

LinkedIn
Stephanie's Full Bio: 
In 2022, Stephanie McLaughlin celebrates 15 years of small business ownership. Not one to rest on her laurels, she launched a podcast based on the passion project she's worked on for 10 years.
Savoir Faire is a marketing agency based in New Hampshire that serves small- and medium-sized businesses. The rapid evolution of the web – and how people use it – has empowered consumers. But keeping up with the pace of change frustrates and overwhelms many business owners. That's where Stephanie and Savoir Faire come in.
The Forty Drinks Project is something Stephanie did when she turned 40. She celebrated the big "four oh" having 40 drinks with 40 friends in 40 different places – and each drink had a thematic connection to the friend. What began as a wacky way to celebrate her birthday extended into a yearlong adventure and turned into something else entirely. 
Stephanie had no idea this "just for fun" project would change her life – but it did!
Ever since, she's been captivated by turning 40 and how other people handle the milestone. This year, the project came to life as The Forty Drinks Podcast, conversations with people about their life experience around turning 40. This birthday often comes wrapped in larger life changes, whether it's a newfound search for meaning, accepting your mortality, or shedding all those things you did because some external authority said you "should."
Stephanie lives in Manchester, NH, with her husband Patrick, and a rambunctious black cat named Quinn. Professionally, she's confident and optimistic. Personally, she's sassy and a little ridiculous.